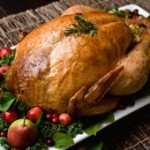 CHOOSING YOUR HAYTER'S FARM TURKEY: 
HOW BIG OF A TURKEY DO YOU NEED?
12-15lb turkey for 10-12 people
15-18lb turkey for 14-16 people
18-22lb turkey for 20-22 people
PREPARING YOUR HAYTER'S FARM TURKEY FOR ROASTING:
Remove the neck and bag of giblets from inside the turkey. Reserve giblets for gravy or dressing, if desired.
Rinse the bird with cold water, inside and out.
Pat dry
Skip this step if you're not stuffing your turkey. Turn the bird upside down and fill the neck cavity loosely with stuffing. Do not pack stuffing. Stuffing expands when cooked. For easy filling, place bird, drumstick-end up in roasting pan, then stuff body cavity. Fasten with skewers or sew shut with cotton kitchen cord.
Bring neck skin up over back. Fasten with skewers or sew shut if you wish. Tuck wings under bird. Tie legs together or tuck under the skin flap. Lightly season and run turkey with salt, favourite herbs & spices.
ROASTING INSTRUCTIONS:
Place turkey uncovered in roasting pan in pre-heated over for 400F (200C) for 30-45 minutes. You should hear skin begin to crackle.
Reduce heat to 325-350F (160-175C). Cover the bird with a lid or tented aluminum foil. Turkey is done when a meat thermometer inserted into the thigh reads 180F (82C) for a stuffed turkey or 165F (74C) for an unstuffed turkey. Drumstick should move easily at the joint.
Let turkey sit, covered, for 15-20 minutes before carving.
Tips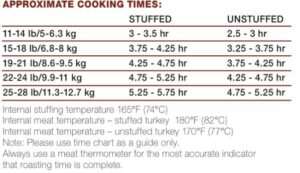 ---