Regular Retail Store Hours
Monday to Friday: 9am – 6pm
Saturday: 9am – 5pm
Sunday: 11am – 4pm
CLOSED: Family Day, February 15th
COVID-19 Update
Due to the rise in case counts, we have decided to transition our retail store back to assisted shopping. This means when entering the store, please wait in the entrance way and our wonderful retail staff with grab all the items you need!
We also continue to offer curbside pick-up for your convenience. However, alcohol purchases are required to enter the store. 
Thank-you for your continued support throughout this pandemic! We hope to have our store back to regular, self serve shopping soon!
Email: info@haytersfarm.com
Tel. 519-237-3561
Fax. 519-237-3460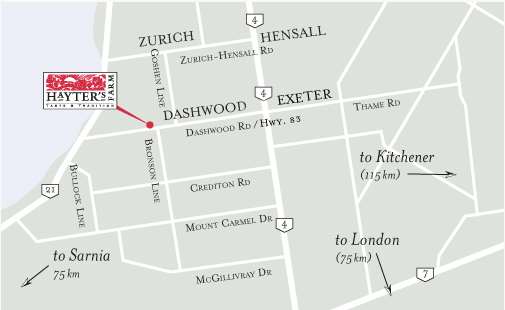 Address
37451 Dashwood Rd
Dashwood, Ontario
N0M 1N0
Retail & Office Closed:
Good Friday, Easter Sunday, Thanksgiving Sunday, Thanksgiving Monday, Christmas Day, Boxing Day & New Year's Day
Want to Join our Team? We'd love to hear from you! Please send a resume to: info@haytersfarm.com