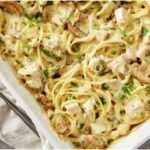 ---
Ingredients
8 oz. thin spaghetti
1 ½ cups shredded cheddar cheese
6 tbsp. Parmesan cheese
2-3 cups cooked turkey
1 tbsp butter
4 oz. sliced mushrooms
¼ cup chopped onions
1 can cream of mushroom soup
½ cup chicken stock
¼ cup dry sherry
---
Method of Preparation
METHOD OF PREPARATION:
Gather the ingredients and preheat your oven to 350*
Spray casserole dish with cooking spray
Cook spaghetti in boiling water until al dente. Drain.
In a large bowl, combine cooked spaghetti with 1 cup cheddar cheese and 2 tbsp. Of parmesan cheese
Add diced turkey
In a skillet, melt butter and saute the mushrooms and onions. Add the turkey along with the remaining ingredients (save the cheese for topping)
Transfer mixture to the casserole dish and sprinkle the remaining cheddar and parmesan on top
Cover the baking dish with lid or tin foil and bake for 45 minutes
If desired, place the casserole under the broiler for 4-6 minutes, or until lightly browned
Serve and enjoy!
---