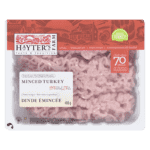 ---
Ingredients
4 Delicata squash
1 package Knorr Garlic and Herb Sauce Mix
1 package Hayter's Farm Minced Turkey
1 ½ cups rice
¾ cup shredded cheese
¼ cup Olive Oil
Cayenne pepper (to taste)
Paprika (to taste)
---
Method of Preparation
Preheat oven to 370*F
Slice squash in half (lengthwise), and remove seeds
Brush with olive oil and sprinkle Knorr Garlic and Herb Sauce and mix lightly over the oiled halves
Bake for 25 minutes
While squash is baking, prepare rice and pan fry minced turkey
Once rice is cooked, drain and mix into ground turkey in a frying pan. Add some paprika and cayenne to taste.
Once squash is done, scoop rice and turkey mixture into the squash, top with shredded cheese.
Place back in the oven under the broiler to melt cheese. Remove from oven once cheese is melted
Enjoy!
---