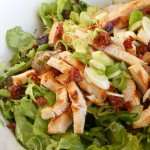 Large get togethers are popular in the Summer! When time is limited, this layered salad won't go mushy so can be done hours ahead of serving time.
---
Ingredients
1/2 lb. (250g) TURKEY Summer Sausage, cut into 3/4 inch (2cm) cubes, or slices
1/2 lb. oven-roasted TURKEY breast, cut into 3/4 inch (2cm) cubes
4 cups (1L) romaine, torn into bite-size pieces
2 cups (500mL) small broccoli flowerets
2 cups (500mL) cucumbers, unpeeled, cut into 1/2 inch (1.5cm) cubes
1 pkg. (250g) frozen peas
10 oz. (308mL) defrosted 3/4 lb. (375g) cherry tomatoes, halved
3/4 cup (175mL) no cholesterol, reduced-calorie mayonnaise
3/4 cup (175mL) reduced-fat sour cream
1/3 cup (75mL) skim milk
1/4 cup (50mL) green onions, thinly sliced
3 tbsp (45mL) dill pickle relish, drained
3/4 tsp (4mL) dill weed
1/2 tsp (2mL) dry mustard
---
Method of Preparation
In a 3 quart (3L) salad bowl, layer lettuce, turkey summer sausage, broccoli, cucumber, turkey breast, peas, and tomatoes.
To make the dressing, in a small bowl, combine mayonnaise, sour cream, milk, onions, relish, dill, and mustard.
Spread dressing completely over top of salad to edges of salad bowl.
Cover bowl with plastic wrap and refrigerate.
---
Tips
To serve, do not toss salad mixture together, simply soon salad onto serving plates
---
Serving Size 8
---
Serving Information
Nutrient analysis per serving: Calories 256; Protein 19 g; Fat 14 g; Carbohydrates 15 g.