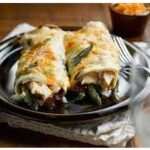 ---
Ingredients
1 small onion, finely diced
4 tbsp butter
3 tbsp. Flour
1 cup milk
½ cup wine
1 tsp thyme leaves
5 sage leaves, finely chopped
⅛ tsp grated nutmeg
6 fresh lasagna sheets
12 asparagus spears, blanched
1 turkey breast, cooked and sliced
½ cup dried cranberries
2 cups old cheddar cheese, grated
Salt and pepper to taste
---
Method of Preparation
Preheat oven to 350*F
In a medium saucepan, saute the onions in the butter until tender and translucent. Store in the flour and cook for a minute. Gradually add the milk and wine whisking throughout to ensure the sauce is smooth and creamy. Add the thyme, sage, nutmeg, and adjust seasoning with salt and pepper. Set aside.
Bring a large pan of water to simmer over medium-high heat. Soften each lasagna sheet by dipping them one at a time in the water for one minute or less. Place two asparagus in the middle of each sheet and divide the turkey, cranberries, and half of the cheese between the six sheets and roll.
To assemble, place half the sauce, on the bottom of an 8" by 12" baking dish. Lay the cannelloni on the sauce, seam side down, and top with remaining sauce and cheese. Bake in the preheated oven until the top is bubbling and a light brown, approximately 20 minutes.
Enjoy!
---