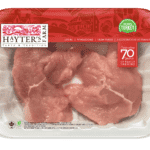 This salad has all the creamy taste with less fat. It is bursting with flavour and will definitely be this summer's most requested salad at picnics and parties for sure!
Safety Tip: When the weather gets really warm, take a bowl that is slightly larger than the bowl you will be using for the salad, put 2 cups of  water in a large zip lock bag and place in bottom of larger bowl. Place smaller bowl inside and freeze overnight. When ready to serve place salad in smaller bowler and your salad will stay cool.
---
Ingredients
1 package of Hayter's TURKEY Steaks
1 clove garlic, minced
1/2 cup low-fat mayonnaise
1/2 cup reduced-fat sour cream
2 teaspoons cider vinegar
1 teaspoon sugar
4 cups finely chopped broccoli crowns
1 8-ounce can sliced water chestnuts, rinsed
3 slices cooked bacon, crumbled
3 tablespoons dried cranberries
Freshly ground pepper, to taste
---
Method of Preparation
Cook turkey steaks as recommended and cube.
Whisk garlic, mayonnaise, sour cream, vinegar, and sugar in a large bowl.
Add cooked & cubed Turkey, broccoli, water chestnuts, bacon, cranberries and pepper; stir to coat with the dressing.
Refridgerate one hour & serve!
---
Tips
Choose your favourite flavour of Turkey Steak, Seasoned, Teriyaki, or Tandoori. This recipe can also be substituted with leftover cooked turkey or our Turkey Fillets.
---