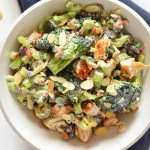 Move over meat and potatoes, salads are no longer a side dish. This hearty salad is perfect as the main event. It is loaded with protein, vitamins and good fats. Tossed with a homemade Greek yogurt dressing for a nutritious and delicious salad.
Recipe source Canadian Turkey Farmers of Canada
---
Ingredients
1 cup (250 mL) TURKEY breast, cooked and chopped
½ cup (125 mL) Greek yogurt
2-3 Tbsp (30-45 mL) apple cider vinegar
1 Tbsp (15 mL) canola oil
1 Tbsp (15 mL) mayonnaise
1 Tbsp (15 mL) honey
5 cups (1.25 L) broccoli florets
½ cup (125 mL) chopped celery
½ cup (125 mL) golden raisins
4 slices bacon, cooked and crumbled
3 green onions, sliced
½ cup (125 mL) sliced almonds
---
Method of Preparation
Dressing:
Whisk the yogurt, vinegar, canola oil, mayonnaise, and honey together in a small bowl; set aside.
Salad:
In a large bowl, combine broccoli, celery, raisins, turkey, bacon, and onions.
Pour the dressing over the salad and mix well to coat. Add the toasted almonds just before serving and toss gently to combine.
---
Tips
I like to use the Turkey Breast Schnitzel if I don't have any cooked turkey available. It cooks up quickly in a fry-pan with olive oil, ready in 5 minutes
---
Serving Size 1
---
Serving Information