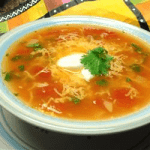 Enjoy this hearty soup with fresh French Bread, a glass of milk, and Voilà, all your food groups in one meal!
---
Ingredients
1lb Hayter's 93% Extra Lean Minced TURKEY, fresh or thawed
3 T. Thyme leaves minced
2.5 tsp sage leaves, minced
1/2 tsp garlic powder
1/2 tsp sea salt
1/4 tsp fresh ground black pepper
2 tsp extra virgin olive oil
1 cup coarsely chopped red onions
1 cup chopped green bell pepper
3/4 cup chopped celery
3 T fresh minced garlic
1 cup raw short-grain brown rice
2 cans tomato paste
4 cups water
---
Method of Preparation
In a medium bowl mix the turkey, thyme, sage, garlic powder, salt, and pepper.
Heat a large stockpot over medium heat. Add the olive oil. Place the onions, bell peppers, celery, and garlic in pot. Cook stirring occasionally, for 5-7 minutes, or until veggies are softened.
Add the turkey, cook for approximately 10 minutes breaking up any chunks, until no longer pink.
Reduce heat to low add rice, tomato paste, and water. Cook, covered on simmer, for 20 minutes, stirring occasionally.
---
Serving Size 10
---