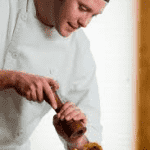 This is the Mantra I use whether in the kitchen or in my everyday life.
The Five  P's of success:
Prior ~ Preparation ~ Prevents ~ Poor ~ Performance
Using this formula you can attend your OWN party. Have your appetizers and hors d'oeuvres ready and dinner prepped  before your guests arrive!
Cooking is about using all of your senses. Be creative. Remember to taste, smell and enjoy the process.