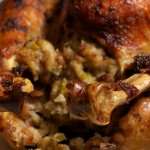 For easy stuffing, place bird drumstick end up in roaster and stuff body cavity. Fasten with skewers or sew closed with kitchen cord. (sometimes the legs can be tucked into the skin if not to thin). Loosely fill neck cavity with stuffing as well. Fold neck skin under turkey, weight of turkey should hold it down. Also can fasten with poultry skewers.
---
Ingredients
10 cups bread crumbs
2 cups finely chopped onion
1 cup chopped celery
1 T olive oil
1/2 cup finely chopped parsley
1/4 cup finely chopped sage
2 tsp. salt
3/4lb melted butter
2 tsp poultry seasoning
1 tsp. ground pepper
1tsp garlic powder
Add 1/2 cup of each or any combination of the following for a more colorful and  unique dressing:
dried cranberries, raisins, apples or chopped walnuts
---
Method of Preparation
This will stuff a 12-15 lb. HAYTER TURKEY.
Saute onions & celery in olive oil, until onions are soft.
In a large bowl mix together all ingredients. Adjust seasoning to suit taste.
Add more apple juice or water if stuffing is too dry.
Spoon dressing into cavity.
---
Tips
Never stuff a turkey the night before.
---