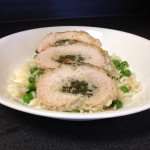 A week night dinner made gourmet. Schnitzel is very versatile and can be used in many different dishes. In this recipe, the stuffed schnitzel, is visually pleasing when served sliced and your palate will agree.
---
Ingredients
4pcs fresh or thawed Turkey Schnitzel, approximately 2lbs
1 T. olive oil
1/2 onions, chopped
1 clove of garlic, chopped
6 fresh mini portobello mushrooms
1 cup fresh spinach
1/4 cup dried cranberrys
1/4 cup cream cheese
1 cup grated medium cheddar cheese, reserved
---
Method of Preparation
Heat oil on medium in fry pan
Add onions and mushrooms, sauteed until limp, approx 3-4 minutes
add spinach, garlic, cheese and cranberrys.
Cook until spinach is limp and cheese softened
Flatten schnitzel by placing between waxed paper and flatten with rolling pin slightly. Take a healthy tablespoon and put on thinnest end of meat. Roll up and place in casserole dish. Spoon any remaining filling over top and top with grated cheese.
Bake uncovered in a pre-heated oven at 350 degrees for 20 minutes
---