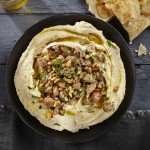 A delicious Middle Eastern inspired recipe with aromatic spiced turkey combined with the freshly made hummus is for perfect for an appetizer or main course.  Prepared hummus can replace the homemade version but it is worth the extra effort and once you taste the difference, you'll never go back.
Recipe source: http://makesitsuper.ca
---
Ingredients
Hummus:
1 1/2 cups (375 mL) dried chickpeas
Cold water, enough to cover chickpeas
1 tsp (5 mL) baking soda
7 cups (1.75 L) water
1 cup (250 mL) tahini paste
1/4 cup (60 mL) freshly squeezed lemon juice
2 cloves garlic, crushed
1 tsp (5 mL) sea salt
1/2 cup (125 mL) ice water
Turkey:
1 lb/ 454g ground Ontario turkey
1/4 tsp (1 mL) freshly ground black pepper
1 tsp (5 mL) ground allspice
1/2 tsp (2 mL) ground cinnamon
Pinch of freshly grated nutmeg
1 tsp (5 mL) dried  oregano leaves
1 tbsp (15 mL) white wine vinegar
1 tbsp (15 mL) each chopped mint and parsley
1/2 tsp (2 mL) salt
1 tbsp (15 mL) each butter and olive oil
Garnish:
1/4 cup (60 mL) chopped flat-leaf parsley
2 tbsp (30 mL) pine nuts, toasted
Glug of good quality olive oil
---
Method of Preparation
Hummus: In a large bowl, cover chickpeas with cold water. Leave them to soak overnight or until they have doubled in volume. Drain the chickpeas. Place a medium saucepan over high heat and add the drained chickpeas and baking soda. Add 7 cups (1.75 L) water and bring to a boil. Cook, skimming off any foam and any skins that float to the surface. The chickpeas will need to cook for about 40 minutes, or until very tender. (It may take longer if they aren't as fresh) Drain the chickpeas. Put the chickpeas in a food processor and process until you get a stiff paste. Then, with the machine still running, add the tahini paste, lemon juice, garlic, and salt. Finally, slowly drizzle in the ice water and allow it to mix until you get a very smooth and creamy paste (add up to ¼ cup (60 mL) more water if desired) Transfer the hummus to a bowl, cover the surface with plastic wrap, and let it rest for at least 30 minutes. If not using straightaway, refrigerate until needed. Make sure to take it out of the fridge at least 30 minutes before serving. (Make ahead: This hummus will keep in the refrigerator for up to three days.) Turkey: In a large bowl, combine the turkey, pepper, allspice, cinnamon, nutmeg, za'atar, vinegar, mint, parsley and salt. Mix well, cover, and allow the mixture to marinate in the fridge for 30 minutes. In a large non-stick skillet, melt the butter and the olive oil over medium high heat. Brown the turkey mixture, breaking up with the back of a wooden spoon until no longer pink side and golden, about 10 minutes. Divide the hummus among 6 individual shallow bowls (or one big platter) leaving a slight hollow in the center of each. Spoon the warm turkey into the hollow and sprinkle with parsley and the pine nuts and a generous drizzle of olive oil.
---
Serving Information
About 643 cal, 42 g total fat, 39 g carb, 13 g fibre, 32 g protein, 61 mg chol, 887 mg sodium. %RDI: iron: 28%, calcium 7%, vit A 10%, vit C 19%