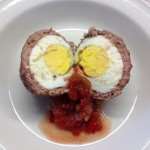 These Scot's Eggs are made with Hayter's Extra Lean Ground Turkey (dark meat). They are the perfect addition to your weekend breakfast or brunch. They also make a quick, healthy, portable lunch item. Delicious and Nutritious: High in Protein, Low Carb, Wheat-free, and Gluten-free.
Recipe adapted by Linda Jones, Master Mentor/Coach, http://www.masterthemoments.ca
---
Ingredients
450g Hayter's Minced TURKEY
5 eggs
2 tsp herb or spice of choice such as sage, poultry seasoning, thyme, rosemary, parsley
½ tsp salt
---
Method of Preparation
Boil the eggs for 4 minutes.
Peel eggs. Pat dry.
Preheat oven to 350deg F.
Gently mix Hayter's Extra Lean Ground Turkey with spices.
Grab a small handful of ground turkey, flatten, and set egg in centre. Carefully work the ground meat around the egg. Press gently and completely cover entire egg.
Place prepared eggs on a cookie sheet lined with parchment paper.
Bake in oven for 30 minutes. Remove from oven. Let cool slightly and serve warm.
---
Tips
You could add many other spices, including cayenne pepper. The baked eggs keep well in refrigerator for up to a week. Freeze well if you defrost in frig and take care with reheating.
---
Serving Size 5
---
Serving Information
Serve warm or cold. Slice egg in half. Top with a dollop of chili sauce, tomato chutney, horseradish, or condiment of your choice.