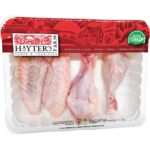 Supersize your wings for the Super bowl game by using turkey wings instead — bigger, meatier! Boil the wings ahead of time so you can simply coat them in the sauces and bake when guests are over. Make two different varieties so that guests will be wowed with their tasty options! Recipe courtesy of Ontario Turkey www.makesitsuper.ca
The perfect answer to this endless winter for the upcoming Super Bowl 2014, taking place this  Sunday Feb 2nd at MetLife Stadium, New Jersey. This year's match up is between the Denver Broncos vs the  Seattle Seahawks.
---
Ingredients
4 turkey wings, (about 3 lb/1.5 kg) cut into 2 pieces each
Curry Lime Sauce:
2 Tbsp. (30 ml) Thai green or red curry paste
1/2 tsp. (2 ml) grated lime rind
2 Tbsp. (30 ml) lime juice
2 Tbsp. (30 ml) fish sauce
1 Tbsp. (15 ml) liquid honey
Sriracha Maple Variation:
Omit Curry Lime Sauce and combine turkey with
1/4 cup (60 ml) ketchup, 3 Tbsp.
(45 ml) pure maple syrup, 2 Tbsp.
(30 ml) Sriracha chili sauce and 2 cloves garlic, minced.
---
Method of Preparation
Cut wings into 2 pieces at both joints. Discard wingtips.
Place wings in a large pot and cover with water and bring to a boil.
Boil wings for 30 minutes, while skimming off foam.
While turkey wings are boiling, add curry paste, lime rind and juice, fish sauce, and honey to wings and toss well to coat evenly.
Remove turkey from water and place in a very large bowl.
Place turkey wings on a parchment paper-lined baking sheet and bake in 400F (200C) oven for about 30 minutes or until golden and juices run clear when pierced.
Makes 8 pieces
---
Serving Size 4
---