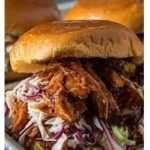 ---
Ingredients
1 jar (660-720ml) of strained tomato puree
½ cup turkey or vegetable broth
¼ cup apple cider vinegar
3 tbsp. Packed brown sugar
2 tbsp. Chili powder
1 ½ tsp ground coriander
1 tsp ground cumin
¾ tsp salt
¼ tsp cayenne pepper
1 onion, chopped
3 cloves garlic, minced
3 lbs bone-in turkey thighs, skin removed OR bone-in, skinless turkey breast
1 tbsp. Canola oil
2 tsp. Dried thyme leaves
½ tsp. Fresh ground pepper
---
Method of Preparation
In a slow cooker, whisk together tomato puree, broth, vinegar, sugar, chili powder, coriander, cumin, ¼ tsp of salt, and cayenne pepper. Stir in onions and garlic, set aside.
In a large bowl, rub turkey thighs with oil, thyme and the remaining salt and pepper. Heat a large nonstick skillet over medium high heat, and brown turkey thighs well on both sides. Nestle in sauce in slow cooker and cook on low for 6 to 8 hours or on high for 3 to 4 hours until turkey meat is falling off the bones
Remove turkey thighs from the slow cooker and shred meat with two forks while removing any bones or cartilage. Return the shredded turkey to the slow cooker and stir into sauce to coat well. Serve on buns, over rice, noodles or even a salad!
ENJOY!
---