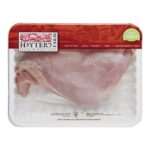 Pulled turkey is delicious, nutritious and so easy! Assemble in the morning and Tada! Dinner is ready when you get home.  A real party pleaser with the weather turning cooler, guaranteed to warm up a football or hockey party!  Adapt the recipe by adding your favourite veggies, mushrooms, peppers or spice it up by adding some hot sauce to it. I suggest using  turkey thighs if you prefer a hotter dish. Remove the  skin though before pulling apart.
---
Ingredients
1kg fresh Hayter's TURKEY breast, skinless

5ml chili powder

5ml Worcestershire sauce 

125ml(1/2 cup) applesauce

2 apples, chopped without skin

1 sliced onion

2 minced garlic cloves

5ml(1 tsp.) pepper

125ml(½ cup) Barbecue sauce or ketchup

125ml(1/2 cup) sundried tomato salad dressing
---
Method of Preparation
1.Spray slow cooker with non-stick cooking spray. Add Turkey Breast, onions, and apples in  slow cooker.
2.Stir together the barbecue sauce, chili powder, applesauce, garlic and pepper.
3.Pour over the turkey.
4.Cook on low for 4 hours.
5.Shred with 2 forks.
Serve with coleslaw on the bun. Reduce the carbs and serve over rice.
---