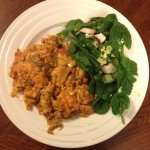 This meal time favourite is great for the busy household. Quick and easy to prep. Dinner is ready in under 1 hour. This recipe can be frozen too. Just double the recipe and freeze one for another day. Bon Appétit!
---
Ingredients
1 lb fresh or thawed Hayter's MINCED Turkey
1/2 cup sliced onions
1 T minced garlic
1 tsp pepper
1/2 tsp poultry seasoning
1 tsp basil, dried or fresh.
1 cup frozen veggies, thawed, drained frozen
1 can sliced mushrooms
1 can 1/2 fat cream of  mushroom soup
2 cups grated old or medium cheddar cheese, divided
---
Method of Preparation
Preheat oven to 350F/177C. Spray 9 x 11 casserole dish with cooking spray.
Place Hayter's Minced TURKEY, onions in skillet. Grill on med for approx. 5 minutes until ground is turning white with a bit of pink still in it.  Add spices.
Put all ingredients in the casserole dish, reserving 1 cup of grated cheese. Fold together gently.
Top with grated cheese. Bake for 40 minutes, covered. Uncover the last 15 minutes.
Rest for 10 minutes before serving.
Delicious with spinach salad!
---