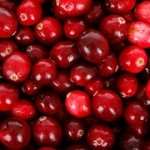 1/2 Cup Whole berry Cranberry Sauce (homemade the best of course)
1 cup  low-fat Kraft Miracle Whip Salad Dressing
2 Tablespoon minced garlic, fresh or jarred
Mix all together and add a dollop to your delicious burger or serve in your turkey wrap!
Can be warmed up and served over Roasted turkey breast or schnitzel.
Refrigerate unused portion in glass jar. (plastic containers might stain from the cranberries)
Do not reuse any sauce that has been heated.