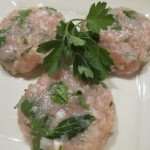 No wheat crumbs in this burger! Your 'gluten free' guests will love this one. Top off with Arugula for extra flavour and nutrients than regular iceberg lettuce. Serve with gluten-free buns, they can be  found in your local market  becoming more readily available in a variety of delicious flavours.
---
Ingredients
Burger Blend:
2lbs Hayter's Minced TURKEY, fresh or thawed
1 large egg
1 garlic clove, chopped finely
1/2 cup onions, finely chopped
2 Tablespoons fresh basil, chopped
1 Tablespoon Roasted Red Pepper & Garlic spice
1 Tablespoon Italian spices
1/2 cup grated parmesan cheese
3 cranks of fresh black pepper
PauliAnna's Must-Have Burger Topper:
1/4 cup Whole Berry Cranberry Sauce
1/2 cup low-fat mayo or miracle whip
1 tablespoon minced garlic, fresh or jar
---
Method of Preparation
Mix all ingredients together in a bowl
Form 6 Turkey Burgers
Preheat BBQ on medium heat
Spray Burgers with cooking spray
Grill 5 minutes each side, then additional 2-3 minutes each side, until juices run clear, I recommend using a thermometer. Insert through the side of the burger, not the top for an accurate reading. Internal temperature should be 165F/47C
 Dress with Melted low-fat Cheddar cheese, Cranberry Burger topper, fresh lettuce, and tomato.
---
Tips
Fresh ingredient substitutes:
2 tbsp jar minced garlic
2 Tablespoon Onion flakes
1 – T dried Basil flakes
Grated Kraft Parmesan cheese.
This Burger is also delicious with stirfried Portobello Mushrooms, Onions & fresh Broccoli, also done on the BBQ
---