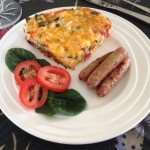 The trick to this easy, favourite Quiche is using Bisquick. No pie crust required, it forms it's own! Using Hayter's Turkey Bacon reduces saturated fats. Delicious served with Hayter's Maple Sausage.
Protein ~ Dairy~ Veggies~ Carbs all in one easy dish. Add a side of fresh tomatoes or fruit salad and you have the perfectly balanced brunch or dinner!
---
Ingredients
8 slices of Hayter's TURKEY Bacon
2 cups of Grated Marble cheese, divided
1/2 cup onions, diced
1/4 cup fresh red pepper, diced
2 cups fresh broccoli, cut into pieces, Blanche (microwave with 1/4 cup water on high for  2 minutes) If using frozen thaw and drain.
2 cups of 1 % milk
1 cup Bisquick
4 eggs
1 clove  Ontario garlic, I use "The Garlic Box "available IQF (individually quick freeze) garlic cloves, thaw one clove in warm water, and mash with a fork.
1/2 tsp. grated black pepper
---
Method of Preparation
Preheat the oven to 400 degrees F.
In a frying pan, grill Hayter's Turkey bacon for 2 minutes each side over medium heat. Slice into bite-size pieces. Set bacon aside.
Spray 10-inch pie plate with cooking spray.
Put cooked bacon, blanched broccoli, red pepper, onions, and  1 cup shredded cheese in the bottom of the pie plate.
Beat the eggs with the garlic and pepper.
Stir in the milk.
Add the Bisquick and beat until fairly smooth.
Pour over the ingredients in the pie plate. Do not stir.
Bake for 20 minutes. Add the reserved cup of cheese and continue baking another 10 minutes or until a toothpick inserted into the center of the quiche comes out clean.
Let cool on a wire rack for 10 minutes before slicing and serving.
Makes 4 to 6 servings.
---