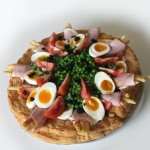 Tis the season!  Ontario Asparagus is in stores and local garden markets now. This Veggie is so healthy for you it just makes sense to serve with heart smart, delicious Turkey. Serve as a side, grilled with garlic butter, or wrap it with smoked Turkey breast with dill sauce. See recipe below.
---
Ingredients
8 stalks of Asparagus
8 pieces of Smoked TURKEY Breast, sliced
Herb & Garlic Light Cream Cheese
Creamy Dill Sauce
1 cup plain yogurt, (not low fat too runny)
2 Tbsp Miracle Whip
1 tsp fresh garlic, minced
1 Tbsp dried dill
---
Method of Preparation
Wash fresh asparagus, gently in cold water. Trim 1 inch of stem from the bottom of each piece. Steam for only 2 minutes, (don't over-cook should still be crunchy) remove and place in cold water.
Spread cream cheese on slices of smoked Turkey Breast.
Put one piece of asparagus on turkey and roll-up. Place roll-ups seam down in shallow baking dish. Spoon Creamy dill sauce over top.
Heat in oven at 300F  until warmed through, approximately 15 minutes. Serve over rice or couscous.
---