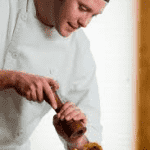 Naan bread is a great alternative for homemade pizza. Naan bread is a popular Indian/Asian flatbread used for many applications. You can purchase Naan bread at almost any grocery store.
---
Ingredients
Ingredients:
Naan bread
Cooked Slivered Turkey Breast
Tomato sauce (use can or use my recipe for homemade sauce in recipe section)
Bell peppers, thinly sliced and sautéed in oil.
Zucchini sliced in rounds, lightly seared.
Red Onions diced, lightly seared
Italian herb tomatoes *recipe below
Mozzarella/ Feta cheese (Shredded) desired amount
Italian Herbed Tomatoes
Ingredients:
10 Roma tomatoes, cut in half remove seeds, then diced into fingernail size bits
3  cloves of garlic, minced
2 tbsp of white sugar or 3 tsp of Honey
Diced fresh basil and oregano, to taste
Splash of balsamic vinegar, must be Modena and 6 % acidity
Salt and pepper to taste
hearty splash of olive oil
¼ of red onion, diced
Optional~ 2 diced sundried tomatoes, this will add a nice dimension to the mixture.
---
Method of Preparation
Place Naan bread on a flat baking sheet. Coat Naan bread with a light layer of Tomato sauce. See attached recipe or feel free to used store-bought tomato sauce. Remember it is Pizza, it is supposed to be easy! Layer with your favorite toppings.
Essentially you will be making your own basic bruschetta. It is great not just for this pizza, but as a tapenade, a welcoming addition to a fresh lunch wrap or a key ingredient in a fresh tossed pasta.
The really easy part: Mix all ingredients together in a large mixing bowl. Transfer into container and store in fridge. Will last up to 8 days if stored properly.
---
Tips
Compliment this recipe with chorizo sausage. Sprinkle a generous amount of shredded mozzarella cheese. To really give this pizza a kick mix mozzarella cheese and feta cheese for added flavour.
Wine Selection for Pizza:
Masi Tupungato, Passo Doble or Argentina
---