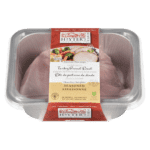 ---
Ingredients
2 cups cooked turkey, shredded into strips
1 1/2 tbsp flour
1 tbsp olive or canola oil
1 medium onion, thinly sliced
4 large cloves garlic, minced
4 tsp curry powder
1/8 tsp cayenne pepper
1 small red pepper, thinly sliced
1/2 cup chicken broth
1 1/2-2 cups mango nectar
1 medium-large mango, chopped into cubes
1/2 tsp each sugar, salt, and pepper
3/4 cup frozen baby peas
cooked rice
chopped cilantro or parsley
---
Method of Preparation
Begin rice preparation 45 minutes before serving
Place the flour and turkey strips in a plastic bag, then shake until coated
Heat olive oil in a large skillet and sauté strips for a few minutes, then add onion and garlic, continue to sauté until they are golden. Add spices and red pepper.
Swish around for about 1 minute, then add broth, nectar, and sugar. Cook on medium heat until mixture starts to bubble.
Add peas and salt and pepper to taste. *If it seems too thick, add a little more mango nectar* Simmer for about two minutes until the peas are done.
Serve over rice and top with the chopped parsley or cilantro.
---