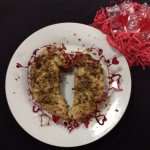 Treat your sweet-heart this Valentine's Day with heart smart Turkey Breast tenderloin. This cut of turkey is virtually fat-free so indulge yourself. Pairs lovely with a spinach salad and slightly dry white wine. Add candles and romantic music a perfect evening guaranteed.
---
Ingredients
2 tablespoons finely chopped lemon peel (about 3 lemons)
1/2 cup lemon juice
2 tablespoons olive oil
1/4 cup finely chopped fresh herbs (any combination rosemary, thyme, parsley, oregano, basil)
1/2 cup dry white wine
1 teaspoon liquid honey
salt &  black pepper, to taste
8 single boneless, skinless turkey breast tenders/fillets
2 tablespoons butter
1/3 cup whipping cream
2 tablespoons finely chopped parsley
Garnish: lemon slices, chopped parsley
---
Method of Preparation
In a small bowl, stir the lemon peel with the lemon juice, oil, herbs, wine, honey salt and pepper to taste. Arrange the turkey in a large shallow glass dish. Pour the marinade over top, ensuring the turkey is coated. Cover and refrigerate for 4 hours, turning once during marinating.
Remove the turkey from the marinade and pat dry. Reserve the marinade.
Heat the butter in a large skillet over medium-high heat. Add the turkey and cook 15-20  minutes turning every few minutes, until cooked through and golden brown. Remove turkey, set aside. Add the reserved marinade to the skillet. Boil until reduced to 1/2 cup, about 4 minutes. Add the cream and bring to boil for 3 minutes. Add pepper to taste and parsley. Return the turkey and juices to the sauce. Heat through. Cut fillets on diagonal and slightly stack 2 pc per plate. Garnish lemon & parsley.
Serve with Rice or favourite salad.
---
Tips
The used marinade can be used in the sauce ONLY because it is thoroughly boiled to kill any bacteria that may have resulted from the turkey. If you follow the directions you will be fine. Don't ever baste with marinade that has been in raw meat. It won't cook enough to kill the bacteria.
---