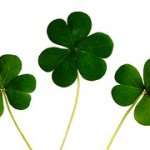 Celebrate St. Patrick's Day with a hearty bowl of Irish Stew, with a twist, the Turkey way! You'll have the most suspicious of leprechauns asking for seconds of this nontraditional St. Paddy's favourite!
---
Ingredients
2lbs boneless skinless Hayter's TURKEY Thighs, cut into bite-size  chunks
1 large onion, chopped
1/3 cup Balsamic Vinaigrette Dressing, divided
3 medium Potatoes, cubed
6 carrots cut in chunks
1 can (14oz/398ml) diced tomatoes
1 cup Guinness Beer
1/2 tsp salt
1  bay leaf
---
Method of Preparation
Brown turkey and onion in 2 T. dressing in large pot over medium-high heat.
Add remaining ingredients and bring to boil, cover, reduce heat to low. Simmering for 30 minutes.
Remove cover and simmer 30 more minutes. Remove Bay Leaf.
---
Tips
Beef Broth can be  substituted for beer.
---