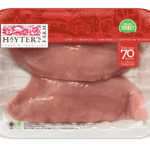 Love our Teriyaki Tenders? Well now you can make our delicious Teriyaki marinade in your own kitchen! Remember to never reuse  room temperature marinade that has been in raw meat as a sauce or glaze.
---
Ingredients
2lbs of Hayter's Unseasoned Turkey Breast Fillets or Skinless Breast.
2 tbsp sesame seeds (optional)
Marinade:
2 cups dry white wine (or Welch's white grape juice)
1 cup soy sauce
juice of one lemon
1 cup olive oil
1 clove garlic, minced
---
Method of Preparation
Mix marinade altogether in a jar with lid and shake well. Pour over turkey breast tenders, cover, and refrigerate for at least 4 hours or overnight.
Pre-heat your grill on medium temperature and grill 15-20 minutes until internal temp is 165F/71C.
Serve with grilled veggies or tossed salad.
---
Tips
If you don't have a thermometer, the juices should be clear in the center when cut with a knife.
---