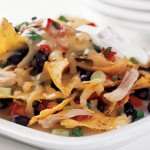 Before the chili bowls come out you'll want to have something to offer your guests to go along with your veggie trays. We suggest this awesome spin on nachos that adds huge flavour. Check out our recipe and surprise your guests with a dish that we know they're going to be talking about in the office on Monday! Offer salsa, sour cream, or guacamole on the side and give your guests an outstanding nacho platter.
---
Ingredients
Pulled Turkey:
– 3 -4 lbs skinless turkey legs or 3 -4 lbs skinless turkey breast
– 1 small onion, grated
– 2 garlic cloves, minced
– 1/2 cup tomato ketchup
– 1/3 cup corn syrup
– 1/4 cup Dijon mustard or 1/4 cup coarse grain mustard
– 2 tablespoons cider vinegar
– 1 tablespoon chili powder
– 1/2 teaspoon salt
– 1/2 teaspoon cracked black peppercorns
– 1 tablespoon Worcestershire sauce
– 1/2 teaspoon liquid smoke
Nachos:
– 1 -2 large bags of tortilla chips
– 1 large tomato – diced
– 2 cups grated cheddar cheese
– 1 onion – finely chopped
– 1 red and green bell pepper – finely chopped
– guacamole and sour cream for dipping
---
Method of Preparation
Pulled Turkey:
1. Place turkey in slow cooker stoneware.
2. In a saucepan over medium heat, combine remaining ingredients except for liquid smoke.
3. Bring to boil and simmer for 5 minutes.
4. Remove from heat and stir in liquid smoke.
5. Pour sauce over turkey.
6. Cover and cook on LOW for 8 to 10 hours or on HIGH for 4 to 5 hours, until turkey is falling apart.
7. Transfer turkey to a cutting board and pull meat off the bones in shreds, using two forks.
8. Return to sauce and keep warm.
Nachos:
1. Pre-heat the broiler on your oven to about 350.
2. On a large baking sheet lined with tinfoil, scatter tortilla chips evenly while adding all the nacho topping ingredients evenly.
3. Top with pulled turkey.
4. Place in the preheated oven and watch for the cheese to melt – should be about 5 minutes
5. Remove and enjoy! Prepare sides of guacamole and sour cream for dipping.
---