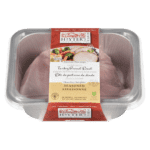 Fall is upon us, and the best season by far! All the hard work of spring and summer has paid off and we get to enjoy the 'fruits of our labour'. Literally and figuratively. Among them of course is the Apple. Once you've tried all the varieties available, be sure to give some great fall recipes a try. There are some delicious recipes that call for apples that isn't just dessert! Whether tart or sweet, your family is sure to enjoy any recipe that includes this nutritious and delicious fruit ~ Recipe compliments of Turkey Farmers of Canada
---
Ingredients
1lb (450g) boneless Hayter's TURKEY Breast or Fillet

one apple, cored and sliced

½ cup (125 mL) Apple Juice

2 tbsp (25 mL) liquid honey

1 tbsp (15 mL) Olive Oil

1 tbsp (15 mL) chopped fresh Mint or 1 tsp/5mL dried, crumbled (optional)

1 tsp (5 ml) Lemon Juice

¼ tsp (1 ml) Cinnamon

pepper to taste 
---
Method of Preparation
Mix all ingredients except turkey and apple slices in a shallow dish. Stir thoroughly to blend honey with juice and seasonings. Add turkey breast, turning to coat both sides.

Cover and marinate in refrigerator for 4 hours (or overnight), turning occasionally.

Remove turkey from marinade, pour liquid into a small saucepan, and set aside.

Cut breast horizontally down the center, without cutting right through.

Insert apple slices in center and tie breast closed with butcher twine.

 

Barbecue turkey on preheated, oiled grill over medium heat, just until meat is no longer pink in center.

Oven method – Bake 1 hour per kilo at 190C (350F) until internal temperature is 77C (170F)

Add 2 tbsp (25 mL) water to marinade. Heat to a boil, boiling for at least 5 minutes. Serve as a sauce with turkey.
---
Tips
NEVER baste with used marinade. Marinade must be boiled for at least 5 minutes to kill harmful bacteria.
---
Serving Size 125
---
Serving Information
Nutritional information (125 gram serving):
Calories: 205
Protein: 28 g
Fat: 5 g
Carbohydrates: 12 g