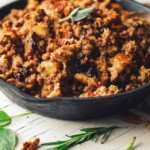 This recipe for Crock Pot dressing is so good you won't even know it didn't come out of the turkey. Using a crock pot verses stuffing the whole turkey also saves time in roasting time in the oven by at least 1-2 hours depending on the size of the turkey. Fill the cavity of the turkey with whole garlic, onion, salt and pepper, fresh chopped sage or basil. I like to rub butter under the skin of the turkey. It tastes delicious and the skin gets browned perfectly.
---
Ingredients
1 cup butter, melted
2 cups chopped onion
2 cups chopped celery
1 loaf bread, (leave out overnight if using fresh) cut into cubes
1 tsp poultry seasoning
1/2 tsp sage
1 tsp salt
1 tsp Black Pepper
2 cups  turkey or chicken broth
2 well-beaten eggs
---
Method of Preparation
Spray crock pot with cooking spray, mix all ingredients and cook in slow-cooker on low for 3 to 4 hours.
---
Tips
I save ends of fresh  bread and freeze instead of using a loaf of  fresh bread.
---