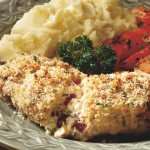 This easy to prepare recipe is delicious and perfect for any dinner guests. The stuffing is very flavourful with the cranberry and cream cheese combination. Recipe compliments of www.makesitsuper.ca
---
Ingredients
6pcs  6oz (175 g) each piece of Hayter's TURKEY Scaloppini or breast cutlets
Cranberry Orange Cream Cheese Filling:
8 oz (225 g) cream cheese, softened
1/4 cup (50 mL) chopped dried cranberries
4 tsp (20 mL) orange juice concentrate
1 tbsp (15 mL) finely chopped green onion
1 tbsp (15 mL) chopped fresh parsley
1 tsp (5 mL) grated orange rind
1 clove garlic, finely chopped
Bread Crumb:
1/4 cup (50 mL) butter, melted
2 cups (500 mL) fresh breadcrumbs
1/4 cup (50 mL) chopped fresh parsley
1 tsp (5 mL) seasoned salt
2 eggs, beaten
---
Method of Preparation
In a medium bowl, mix together filling ingredients until well combined; chill to firm up a bit.
Pound turkey to flatten, if needed. Divide filling among turkey, placing at one edge fold in sides and roll up, sealing completely. Wrap tightly with plastic wrap and refrigerate for 30 minutes.
In medium bowl combine butter, breadcrumb, parsley, and seasoning salt. drip each roll in egg then in breadcrumb mixture, pressing in coat well. Place on lightly greased baking sheet.
Bake at 375F (190C) for 25 to 30 minutes until golden and tender.
---