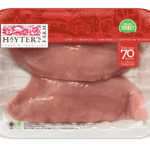 Put a spring in your step with this refreshing delightful dinner. The cranberries, cinnamon, honey, almonds with orange juice, makes a light savory sauce. A spinach salad compliments this tangy dish beautifully.  Add a side of couscous or rice. Fine Dining made easy and affordable!
---
Ingredients
2 pcs  (2lbs)  Hayter's Unseasoned TURKEY Breast Fillets, butterfly cut all the way through, you should have 4 oblong pieces
2 navel oranges
60ml (2 T) all-purpose flour
3ml (1/2 tsp) salt, divided
1ml (1/4 tsp) freshly ground pepper
250ml (1 cup) reduced-sodium chicken broth
15ml (1 T) canola oil
250ml (1 cup) white wine
118ml (1/2 cup) dried cranberries
60ml (2 T) honey
1  3-inch cinnamon stick (can also substitute with 1tsp ground cinnamon)
118ml (1/2 cup) slivered almonds, toasted, (brown slightly for 2 or 3 minutes in 1 tsp of butter).
---
Method of Preparation
Zest and juice one orange. Remove the skin and white pith from the other orange, then halve and slice. Reserve zest and juice separately from the orange slices.
Combine flour, 1/4 teaspoon salt, and pepper in a shallow dish. Dredge breast in the flour, shaking off any excess. Transfer the remaining flour to a small bowl, add broth and whisk to combine.
Heat oil in a large non-stick skillet over medium heat. Add the turkey and cook until browned, 3 to 4 minutes per side. Transfer to a plate. Add wine to the pan and cook for 1 minute. Add the flour-broth mixture, the reserved orange zest and juice, raisins, honey, cinnamon stick, and the remaining 1/4 teaspoon salt; bring to a boil.
Reduce heat to a simmer, return the turkey and any accumulated juices to the pan and cook, turning the breast once or twice, until minimum internal temperature is 165F/74C into the thickest part of the meat registers and the sauce has thickened, approximately 10 minutes.
Place the turkey on a plate. Remove the cinnamon stick. Spoon the sauce over the breast and garnish with the reserved orange slices and almonds.
---
Tips
You can also cut breast into strips and add veggies to make a delicious stir-fry instead!
---
Serving Size 4
---