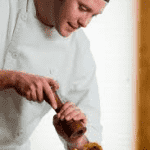 This basic tomato recipe is very adaptable to any recipe. Making it as spicy or mellow as you prefer. yet.  There is nothing as juicy as locally grown tomatoes. So make a few batches and freeze in zip lock bag. Homemade sauce ready when you are.
---
Ingredients
2 tsp. of butter
shot of olive oil
1/2 Onion, minced
1/2 Celery, finely diced
10 ripe Tomatoes, diced
Or
1  large can of diced tomatoes
2 tsp. of minced garlic
¼ of brown sugar
10 wiggles of Worcestershire bottle
½ handful of chopped fresh basil and oregano
Splash of red wine
½ cup of water, Chicken or vegetable stock will give tomato sauce more complexity
---
Method of Preparation
Sautee minced onions and celery on med/low heat in butter and olive oil, for approximately  15 minutes.  Add garlic and sugar, let caramelize 2 to 4 minutes. Now add remaining ingredients and bring to boil. Once boiling reduces to low/medium heat and let simmer for minimum of 1 ½ hours, stirring periodically.
Once all ingredients have softened, purée to desired consistency with hand blender. Let cool and store covered in refrigerator. Will last up to 8 days, and can be used for many applications.
---
Tips
If you find mixture is getting to thick add a splash of water to thin out.
---