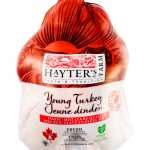 This is going to be one of your favorite barbecue recipes: whole BBQ turkey cooked directly on the barbecue grill.
Not only can it be done, it is actually pretty easy. And it tastes absolutely fabulous.
It is best done with a smaller bird to ensure that it gets properly cooked all the way through.
Also, when you barbecue turkey pleasedon't stuff it. The stuffing slows down the cooking time and makes it more difficult to ensure that it cooks through properly.
Prep time: 10 minutes
Cook time: 2 hours
---
Ingredients
~ 6 to 7kg (14 – 16lb) Fresh or Thawed HAYTERS TURKEY turkey
~ salt and pepper
~ olive oil or butter/margarine, or a combination, for brushing
~ your favorite turkey seasonings: sage, lemon pepper, rosemary works well
~ Put small whole onions and garlic inside the turkey
---
Method of Preparation
Rinse the turkey thoroughly inside and out. Pat it dry. Sprinkle the inside cavity of the turkey with salt, pepper and your favorite turkey seasonings. Put small whole onions and garlic inside the turkey. Preheat your barbecue grill to medium. Place the turkey, breast side up, in a roasting pan. Lightly brush it with oil or melted butter and sprinkle the outside with the seasonings. Add 1/2 cup water to the bottom of the roasting pan. Insert a meat thermometer into the thigh of the turkey (Be careful not to touch the bone with the thermometer. It will affect the temperature reading.) Place the turkey roasting pan on the grill. Close the lid and roast for 20 minutes, then lower the heat to medium-low. If you have a barbecue with a temperature setting, keep the temperature set at between 325ºF-375ºF. Tent the turkey with aluminum foil to prevent it from over-browning. Baste your bbq turkey every 15-20 minutes. Add more water to the pan if it dries out during cooking. There should always be water or juices in the pan.
---
Tips
When it is perfectly cooked, the turkey meat may have a slight pink tinge. Just make sure it is cooked near the bone. Internal temperature should be 170F in breast and 180 in thigh
---