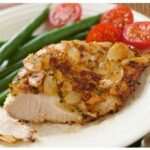 ---
Ingredients
¼ cup buttermilk
1 tsp hot sauce
1 tsp salt, divided
4 turkey breasts. Skinless and boneless, approx. 1lb
½ cup fresh breadcrumbs
½ cup sliced almonds
½ cup grated parmesan cheese
¼ cup chopped parsley
2 tbsp vegetable oil
---
Method of Preparation
In a shallow dish (pie plate), whisk together buttermilk, hot sauce, and ½ tsp of the salt. Place turkey in mixture for at least 10 minutes (up to one day)
In a separate shallow dish, combine breadcrumbs, almonds, parmesan, remaining salt, and parsley
Shake excess buttermilk from the turkey fillets and dredge in the almond mixture pressing gently until completely coated with mixture
In a large oven proof, non-stick skillet, heat oil over medium-high heat. Cook turkey until well browned on the bottom, about 2 minutes
Gently flip over and transfer to 400*F oven until turkey is cooked through and top is golden, about 10 minutes.
Enjoy!
---