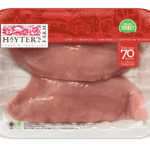 I really enjoy this dish with green beans or spinach salad. Almonds and these green veggies are always a winning combination. The almonds crisp up so the texture is a bit crunchy while the tenders are, well just so tender and juicy.
---
Ingredients
4pc (2lbs) Hayter's Unseasoned TURKEY Fillets
3/4 cup (50 mL) buttermilk
1 Tbsp (15 mL) hot sauce
1 Tbsp (15 mL) salt, divided
1/2 cup (125 mL) fresh breadcrumbs
1/2 cup (125 mL) sliced almonds
1/2 cup (125 mL) grated Parmesan cheese
1/4 cup (50 mL) chopped parsley
2 tbsp (25 mL) vegetable oil
---
Method of Preparation
In a shallow dish (pie plate), whisk together buttermilk, hot sauce, and ½ tsp (2 mL) of the salt. Place turkey in mixture for at least 10 minutes and up to one day.
In a separate shallow dish, combine breadcrumbs, almonds, Parmesan, remaining salt, and parsley.
Shake excess buttermilk from the turkey fillets and dredge in the almond mixture pressing gently until completely coated with the mixture.
In large ovenproof, non-stick skillet, heat oil over medium-high heat. Cook turkey until well browned on the bottom, about 2 minutes. Gently flip over and transfer to 400°F (200°C) oven until turkey is cooked through and top is golden, about 10 minutes. Minimum internal temperature is 165F/74C.
---
Tips
To make your own buttermilk, put  1 Tbsp vinegar or lemon juice  in measuring cup and fill with milk to just under 1 cup. Stir and let sit for 10 minutes.
---
Serving Size 4
---
Serving Information
200 gram serving: 300 cal, 35 g pro, 16 g total fat (3 g sat fat), 6 g carb, 2 g fibre, 50 mg chol,
920 mg sodium. %RDI: iron 15%, calcium 15%, vit A 8%, vit C 8%